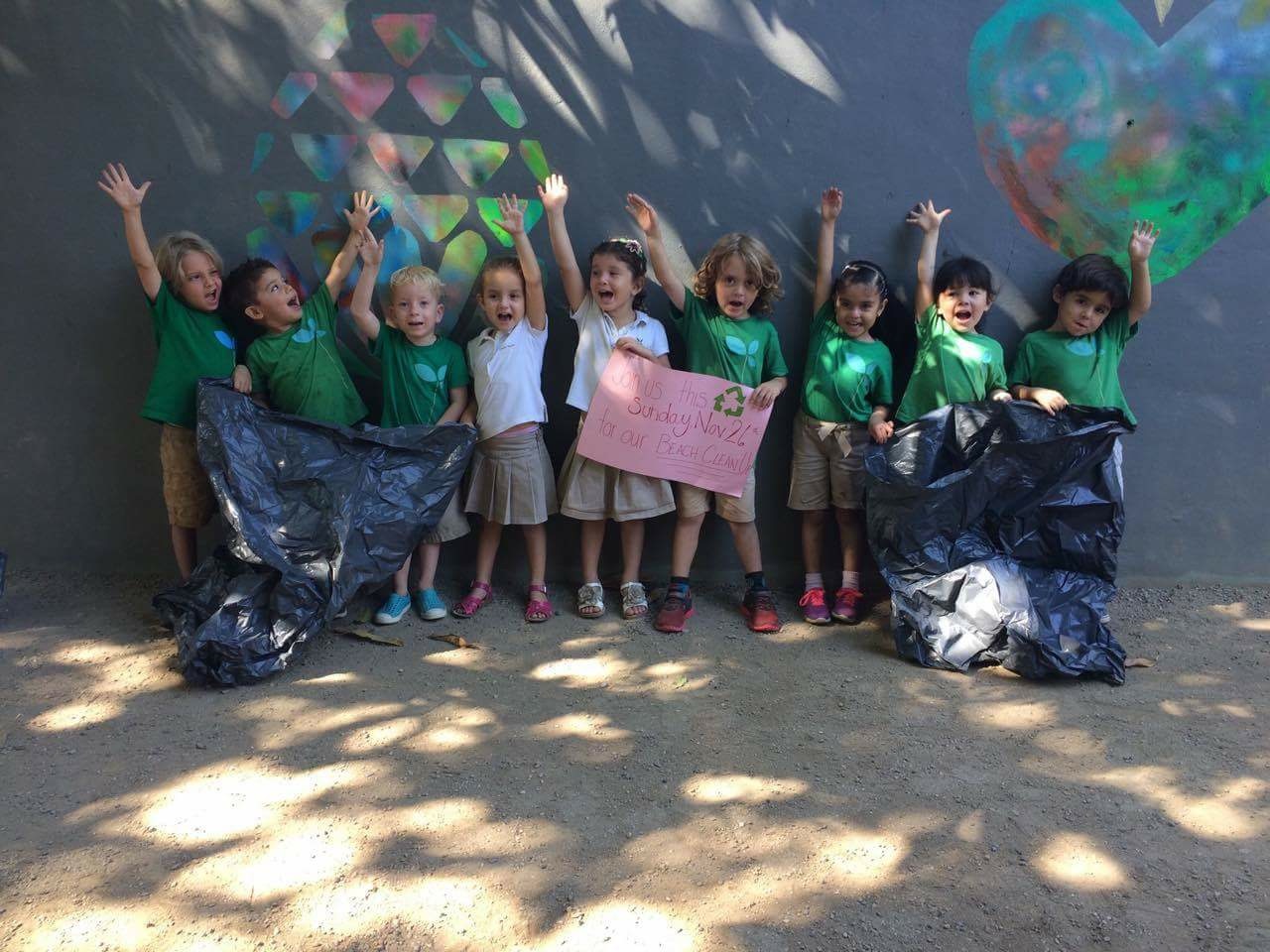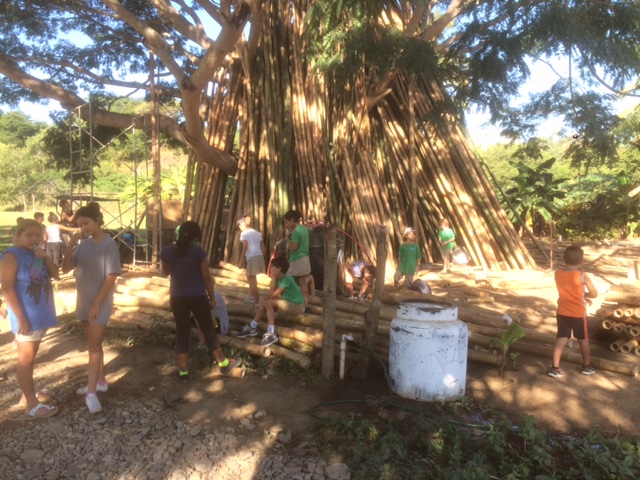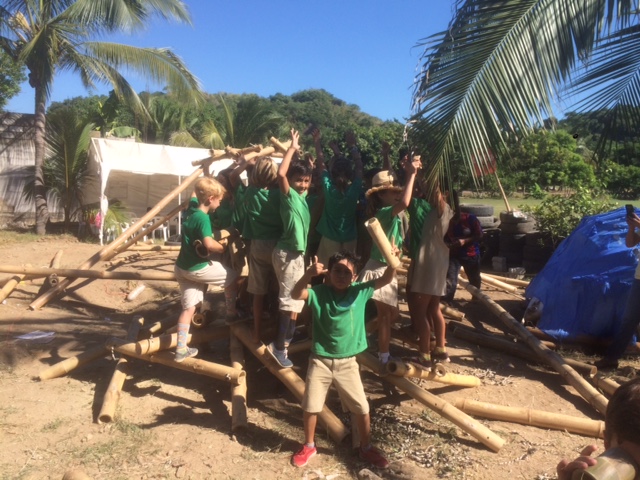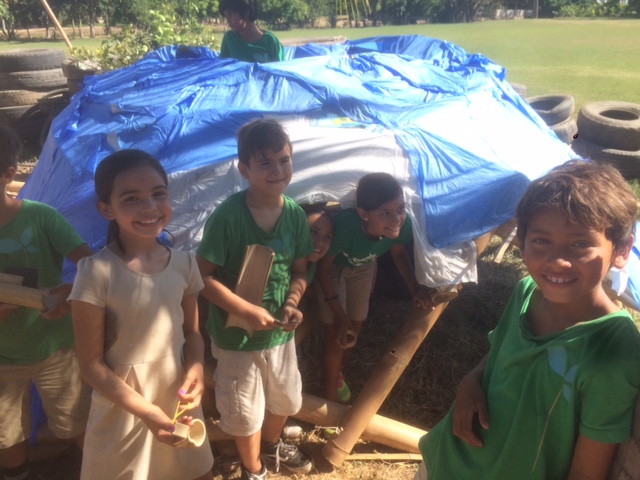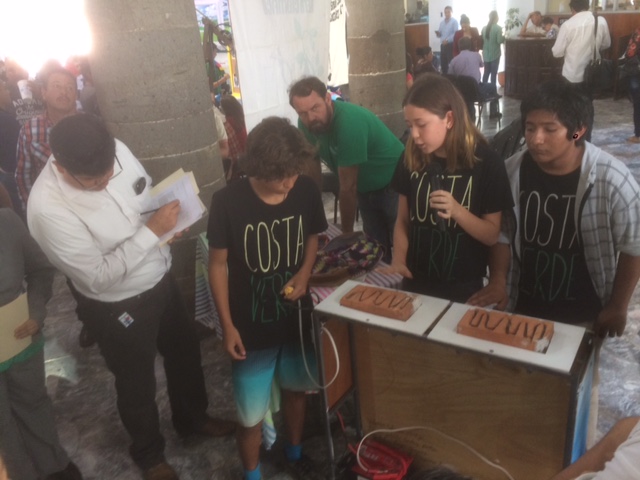 We will be doing a beach clean-up this Sunday, November 26. This clean-up will be sponsored by Ms. Melissa's K2 class, who are studying the ocean and ocean life and want to do their part to help. Please come out to support these kids and keep our beaches clean! We will meet at 9am in front of El Break cafe. See you there! Estaremos limpiando la playa este domingo, 26 de noviembre. Esta limpieza estará patrocinada por la clase de K2 de la Sra. Melissa, quienes están estudiando la vida marina y oceánica y quieren hacer su parte para ayudar. ¡Por favor, ven a apoyar a estos niños y mantener nuestras playas limpias! Nos encontraremos a las 9 am frente a la cafe El Break. ¡Te veo allí!
9th grader Sara Moore and I were lucky to spend Thursday through Sunday November 9th - 12th at the Bamboo Architecture Workshop put on by Festival Sayulita and El Centro. Sara applied for and won a full scholarship to the workshop, and was a superstar the whole time! She has a bright future in achitecture or engineering if she wants. Other secundaria students Elliott Whitten, Dylan Thompson, and David Marron submitted a video about their work as Eco Stewards and were invited to participate in the workshop all day Saturday. We learned all about bamboo as a sustainable resource, and bamboo building techniques. Ask the kids about the different types of connections used and why, they're experts now. We also built three bamboo geodesic domes that will be used as reading and play centers in the new El Centro community center. La estudiante de 9no grado Sara Moore y yo tuvimos la suerte de pasar del jueves 9 al 12 de noviembre en el Taller de Arquitectura de Bambú organizado por Festival Sayulita y El Centro. ¡Sara solicitó y ganó una beca completa para el taller, y fue una superestrella todo el tiempo! Ella tiene un futuro brillante en arquitectura o ingeniería si quiere. Otros estudiantes secundarios Elliott Whitten, Dylan Thompson y David Marron presentaron un video sobre su trabajo como Eco Stewards y fueron invitados a participar en el taller durante todo el sábado. Aprendimos todo sobre el bambú como recurso sostenible y las técnicas de construcción de bambú. Pregunte a los niños sobre los diferentes tipos de conexiones utilizadas y por qué, ahora son expertos. También construimos tres cúpulas geodésicas de bambú que se utilizarán como centros de lectura y juego en el nuevo centro comunitario de ElCentro.
Then last Wednesday 3d, 4th, and 6th grades all went out to the El Centro site and got their own mini workshops, learning about and practicing baharenque wall building technigues for the domes.They worked hard int he hot sun, and keep asking when they get to go back! Thanks so much to th architects from OJTAT(http://www.ojtat.org/), the people from Festival Sayulita and El Centro, and Manuel Trujillo and his family for creating such a wonderful resource for the youth of Sayulita, inviting us out there, and letting us participate in the construction. Luego, el miércoles pasado, todos los alumnos de 3d, 4th y 6 salieron al sitio de El Centro y obtuvieron sus propios mini talleres, aprendiendo y practicando técnicas de construcción baharenque para las cúpulas. Trabajaron arduamente bajo el sol ardiente y siguen preguntando cuándo ¡Vuelve! Muchas gracias a los arquitectos de OJTAT (http://www.ojtat.org/), la gente del Festival Sayulita y El Centro, y Manuel Trujillo y su familia por crear un recurso tan maravilloso para los jóvenes de Sayulita, invitándonos por ahí, y dejándonos participar en la construcción.
Also on Wednesday the 5th grade went to EntreAmigos in San Pancho to find Spanish language resources for their research projects on subjects ranging from the Amazon, to black holes, to polar bears. Big thanks to to the staff of EntreAmigos and our own libriarian Daniela McEntyre for guiding and facilitating the research process. And thanks to all the parent drivers and chaperones: Jenni Morelos, Erick Sanchez, Jordi Ferrer, Zaida Lugo, Renessa Melang, and Morgan Sierra. También en miercoles el 5 ° grado fue a EntreAmigos en San Pancho para encontrar recursos en español para sus proyectos de investigación en temas que van desde el Amazonas hasta los agujeros negros y los osos polares. Muchas gracias al personal de EntreAmigos y nuestra propia biblioteca Daniela McEntyre por guiar y facilitar el proceso de investigación. Y gracias a todos los padres conductores y chaperones: Jenni Morelos, Erick Sánchez, Jordi Ferrer, Zaida Lugo, Renessa Melang y Morgan Sierra.
Tuesday the 7th grade drove to El Molcajete, an dormant volcano outside of Mascota. They hiked up the cone, ran down into the crater, and made lots of observations and inferences and found evidence about the type of volcano it is (a cinder cone). They also took advantage of the change in altitude and increased distance from the coast to do some review for their previous unit on climate and eco-systems. Thanks to Ms. Taheri and all the parent drivers/car lenders (Zack Melang, Chris Ostrowski, Nick Challed, and Soi Mora who lent us her car, Anne Menke who lent us her truck. Nick and Anne don't even have kids in the class!) for making it happen. Martes, el 7 ° grado condujo a El Molcajete, un volcán inactivo a las afueras de Mascota. Subieron por el cono, corrieron hacia el cráter e hicieron muchas observaciones e inferencias, y encontraron evidencia sobre el tipo de volcán que es (un cono de ceniza). También aprovecharon el cambio de altitud y el aumento de la distancia desde la costa para hacer una revisión de su unidad anterior sobre el clima y los ecosistemas. Gracias a la Sra. Taheri y a todos los padres conductores / prestamistas de automóviles (Zack Melang, Chris Ostrowski, Nick Challed y Soi Mora que nos prestaron su auto, Anne Menke que nos prestó su camioneta. Nick y Anne ni siquiera tienen hijos en la clase!) para hacer que suceda.
Friday Secundaria Director John Whitten and I accompanied the 9th graders to Nayarit State Science Fair at the Palacio Gobierno in Tepic. Thanks again to Jordi Ferrer for lending his truck. The theme of the event was sustainable energy, and there were some truly amazing projects from around the state, including bio-diesel engines, a cardboard bicycle, and our own electric stove, powered by a car battery and a washing machine motor. The battery powers the stove, the motor charges the battery, and it can run virtually forever with only the pull of a cord to start the motor. The project was really cool, and the students were so adept and articulate in explaining it and answering questions. We won 4th place in the state! Congratulations to the students and Professor Juan Pablo for their amazing work! El Director de la Secundaria del Viernes John Whitten y yo acompañamos a los estudiantes de 9no grado a la Feria de Ciencias del Estado de Nayarit en el Palacio de Gobierno en Tepic. Gracias de nuevo a Jordi Ferrer por prestar su camioneta. El tema del evento fue la energía sostenible y hubo algunos proyectos verdaderamente sorprendentes de todo el estado, incluidos los motores de biodiesel, una bicicleta de cartón y nuestra propia estufa eléctrica, alimentada por una batería de automóvil y un motor de lavadora. La batería alimenta la estufa, el motor carga la batería y puede funcionar virtualmente para siempre con solo tirar de un cable para arrancar el motor. El proyecto fue realmente genial, y los estudiantes fueron tan hábiles y articulados para explicarlo y responder preguntas. ¡Ganamos el 4to lugar en el estado! ¡Felicidades a los estudiantes y al profesor Juan Pablo por su increíble trabajo!
Thanks and see you soon!